For patients who have crooked teeth, but don't want to wear metal braces, invisalign is the comfortable and nearly invisible way to straighten teeth.
This modern orthodontic method can straighten teeth quickly and comfortably. Treatment time using Invisalign clear braces is typically 6 to 18 months, and many patients achieve their ideal smiles in less than a year. Invisalign uses a series of acrylic aligners to gradually move teeth into their ideal position. There are no metal wires or brackets to irritate mouths, and the aligners are removable, so they're easy to keep clean.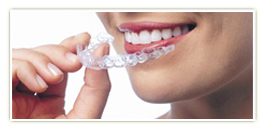 An impression is taken of your teeth and jaws, before sending them to a certified Invisalign lab to fabricate your custom aligners. You'll wear this set of aligners for two weeks, then move on to the next pair in your series. We'll check your progress at regular intervals to ensure your smile is moving in the right direction.