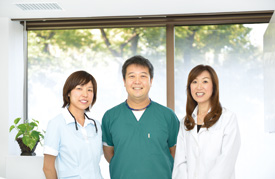 Tokyo Clinic Dental Office has been serving the expat population in Tokyo since 1952 when it was first established by Dr. Besford. It was then passed onto the management of the Tokyo Medical and Surgical Clinic and is now independently owned by Dr. Anthony S. Drennan, DMD.
Our goal is to be your family dentist. Dr. Drennan sees patients from ages 2 and up. Being one of only a few dentists in Tokyo with private practice experience in the U.S., Dr. Drennan strives to maintain a practice style based on American methods. Ample time is allotted for each dental visit and emphasis is made on addressing the patients chief concern.
A preventative program (decay prevention) for both children and adults is available for interested patients. This protocol has gained widespread popularity, particularly, among pregnant mothers, with hopes of curtailing decay in their children. Please feel free to give us a call with any questions so that we can better assist you.